Queen Street - putting pedestrians first
Queen Street – te whakatuatahi kaiwaewae
Queen Street - putting pedestrians first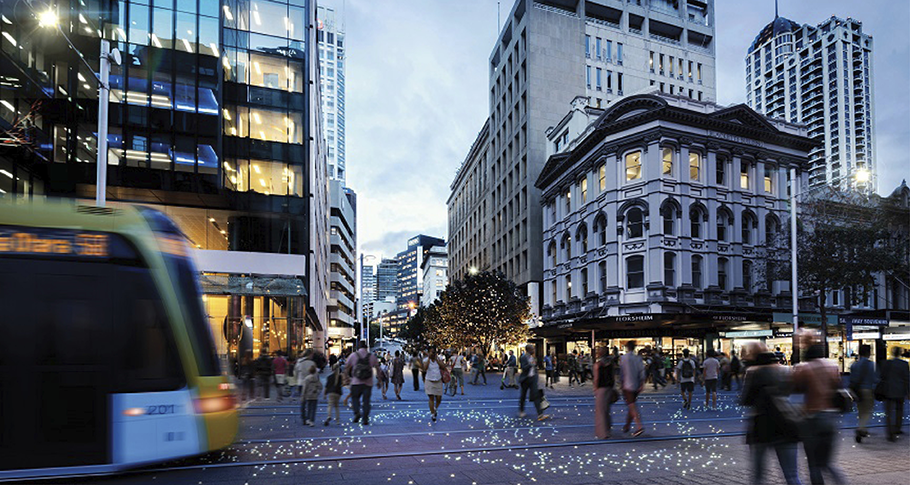 About this opportunity
Queen Street will continue to evolve over the life of the masterplan, becoming a vibrant pedestrian-priority walking and shopping street and quality transit corridor at the heart of Waihorotiu / Queen Street Valley.
The full potential of these elements will be unlocked through the creation of the central zone of the Access for Everyone (A4E) concept, which will deliver a pedestrian-friendly, high-amenity, safe and vibrant core to the city within a zero-emissions zone.
How this would happen
The masterplan envisages opportunities to achieve the following outcomes through future changes on and around Queen Street:
Increasing pedestrian priority
Creation of a transit mall condition along Queen Street over time, with eventual removal of all general traffic, to be implemented through a series of pilots and incremental network changes to be implemented in parallel with major city centre construction works and traffic management plans.
Further streetscape enhancements to Queen Street to increase pedestrian priority, with a highly accessible, level surface design accommodating increasing pedestrian volumes and ability to cross the street freely supporting a vibrant, two-sided retail street.
Light rail
Ability to accommodate centre-running light rail service with high-capacity, high quality passenger stops at Aotea (Town Hall) and Downtown.
Cycling and micro-mobility
Cycling and micro-mobility modes supported through reduced traffic, slower speeds, more space and level-surface design.
Changes to servicing and deliveries
Overnight delivery and servicing with vehicles restricted by size and type to transition to zero emissions zone.
Priority for total mobility users
Total mobility users always allowed access for pick-ups / drop off to ensure Queen Street is inclusive and accessible for all.
Better air quality
Enhanced air quality through traffic reduction and restrictions on vehicle type and size.
New public spaces
Potential for new public spaces at pedestrianised intersections with secondary side streets and the growing network of expanded laneway streets and spaces.