Union and Wellington streets - walking and cycling and connections
Ngā tiriti o Union me Wellington – ngā ara hikoi, eke pahikara, ngā hononga hoki
Union and Wellington streets - walking and cycling and connections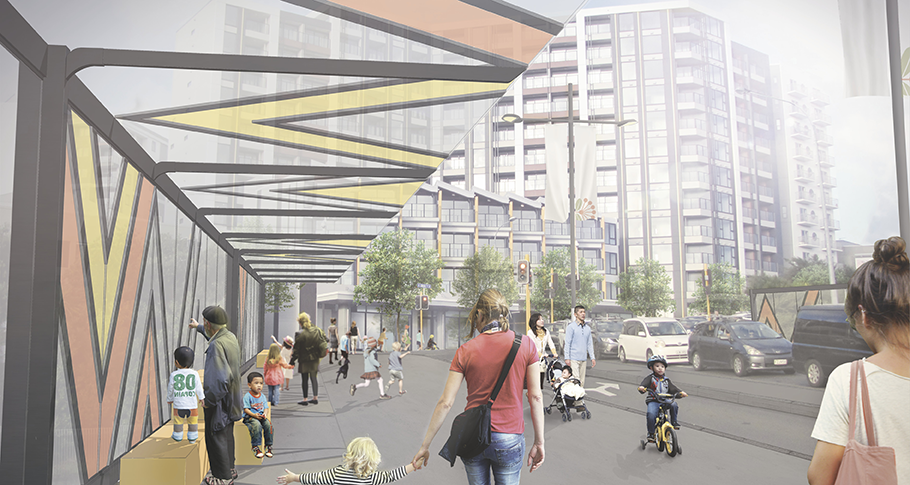 About this opportunity
The City Centre Masterplan recognises that Union and Wellington Streets are a key City to Villages connection. They link Freemans Bay, including the primary school, with New Zealand's densest residential neighbourhood centred on Hobson and Nelson streets in the Victoria Quarter.
Why we want to do this
The streetscapes and motorway bridge along this route present many opportunities for improvements to safety, comfort and enjoyment. These improvements would benefit people walking, cycling and scootering through this southwestern gateway to the city centre.
Improving this over-looked connection has been identified as a flagship opportunity to deliver on the Transformational move 7 - City to villages.
How this would happen
The masterplan envisages opportunities to achieve the following outcomes through future investment along this route:
Improved footpaths
Wider, safer and higher quality footpaths lined by street trees, with better pedestrian crossing facilities, especially across motorway ramps and interchange areas.
Safer connections
Addition of a generous shelter structure to the northern side of Wellington Street Bridge to provide a safer, more comfortable and legible route across the motorway to the primary school, for more vulnerable users, including children, parents with prams and people with mobility difficulties.
Engaging spaces for pedestrians
Inclusion of more people-focused and playful elements, such as seating, viewing opportunities across the motorway, and use of colour and pattern to make the journey more engaging and memorable for all users and enhance the place value around the motorway junction.