Whare tāpere - a contemporary community house at the heart of the Aotea Quarter
Whare tapere – tētahi whare hapori ōnāianei i te pokapū o Horotiu
Whare tāpere - a contemporary community house at the heart of the Aotea Quarter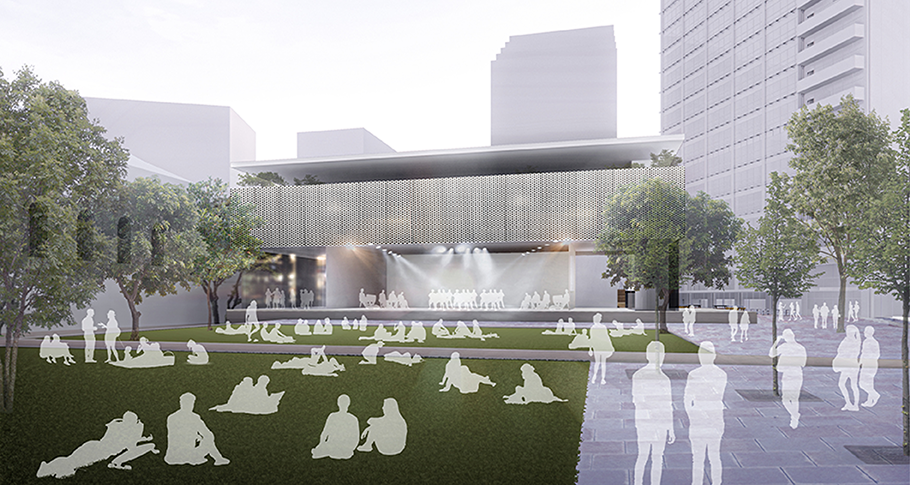 About whare tāpere
A whare tāpere is traditionally a community house that facilitates a wide selection of entertainment forms. They were a focal point of community enjoyment and entertainment which included dance, music and storytelling.
What a whare tāpere can deliver
The opportunity exists for this modern whare tāpere to accommodate and deliver an endless range of entertainment opportunities. It has been sized to facilitate large kapa haka events through to smaller more intimate performances.
The side of the building can open to enable its main performance space to serve as a stage for Aotea Square. The whare tāpere will accommodate activities such as:
manaakitanga

hui

whakangāhau

mihi whakatau

mahi a rēhia

.
Best location for a whare tāpere
The best location for the whare tāpere is the south eastern corner of Aotea Square, in the heart of Tāmaki Makaurau performance precinct. This location also helps make the square more functional for community use.
Design vision for the whare tāpere
The whare tāpere presents a strong mana whenua identity to Aotea Square. The buildings internal form is simple, strong and multifunctional.