Vision for transit oriented development
Te matawhānui mō te whakawhanaketanga taunaki ikiiki
Vision for transit oriented development
What we aim to achieve
Develop bustling hubs centred on rapid transit nodes (City Rail Link, light rail, buses and ferries) at Britomart, Aotea Quarter, Karangahape Road, and Dominion Road Junction and Mt Eden station precincts.
Create high-quality, highly-accessible

public realm

connecting public transport passengers with city centre streets.
Support development of Wynyard Quarter and Quay Park / Te Tōangaroa by delivering major public transport infrastructure.
Enable the Aotea Quarter to benefit from proximity to new CRL station.
Why we want to do this
Auckland's city centre connectivity is being transformed by rapid transit. The City Rail Link (CRL) stations and proposed light rail transit (LRT) stops will concentrate access and activity along the Waihorotiu / Queen Street Valley, supporting new buildings and enhanced public realm.
The emerging Bus Reference Case identifies the importance of new bus terminals for transport to and within the city centre, especially for busway services. Major capacity increases for ferries are underway at Queens Wharf.
CRL stations at Britomart (downtown), Aotea Quarter (midtown), Karangahape Road (uptown), Mt Eden and Dominion Road Junction (city fringe) will become key development areas.
Station precincts are ideal places to focus development. The investment in public transport can also create great places to live, work and socialise and enable viable, around-the-clock, mixed-use locations, all within 5-10 minutes' walk to the rapid transit network.
Accessible public realm will let people comfortably and safely move around the wider area.
Transit street explained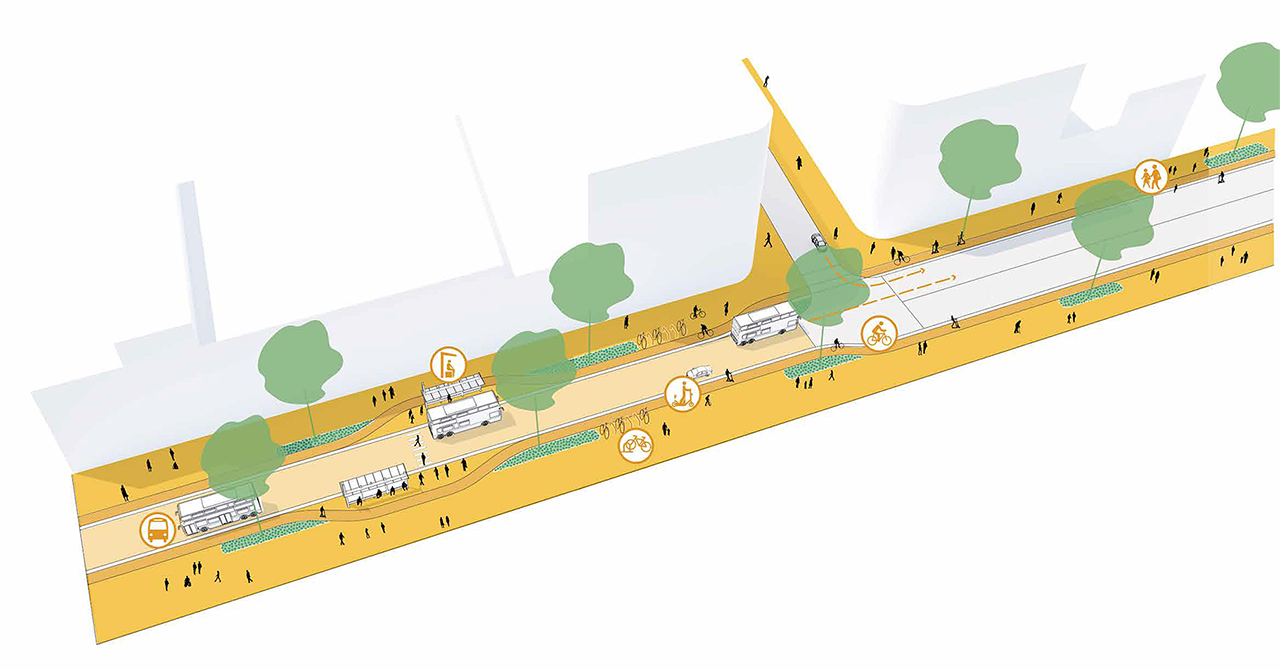 Transit streets prioritise dedicated centre-running lanes for bus and light rail services with space for wider footpaths, segregated cycle lanes and safe wait zones for passengers.
Transit streets bring people to the area and make it more pleasant to be in it. 
Characteristics and benefits of transit streets
Dedicated transit lanes in

 

centre of street.

 

Wider footpaths to

 

create higher capacity and

 

more generous walking

 

environment.

 

More space for safe and

 

pleasant waiting zones for

 

passengers using buses.

 

Mobility access and local

 

property access allowed.

 

Traffic restricted from

 

entering transit street to

 

make additional space to

 

prioritise efficient modes of

 

transport.

 

Space for street trees,

 

planting, seating and other

 

place-making

elements.

 

Space for dedicated/separated cycle lanes for

 

people on bikes and 

micro-mobility

 

modes.

 

Adaptive signal priority

 

to give transit vehicle

 

automatic green light

 

through intersections.

 

Bike and scooter parking at

 

transit stops for ease of

 

first/last mile trips.

 
More information about transit oriented development
---