Vision for Waihorotiu / Queen Street Valley
Te matawhānui mō Waihorotiu / Te Awaawa o Queen Street
Vision for Waihorotiu / Queen Street Valley
What we aim to do
Waihorotiu / Queen Street Valley to become central zone of the Access for Everyone (A4E) concept, prioritising pedestrians.
Waihorotiu / Queen Street Valley to remain vital to the regional and national economy and be the location of choice for national and international head offices.
Albert Street to emerge as a new complementary commercial address to Queen Street and Shortland Street.
Central Auckland to become increasingly accessible at a regional and local scale.
Low-emission zone in Waihorotiu / Queen Street Valley, delivered via traffic removal.
Improve connectivity between Waihorotiu / Queen Street Valley and surrounding city centre quarters.
Completion of extensive

laneway circuit

, delivering pedestrian priority to city centre streets.

Why we want to do this
The success of the Waihorotiu / Queen Street Valley is critical to Auckland's and New Zealand's economy.
In central Auckland, commerce (national and international trade, finance, property, investment and legal services) shares the area with primary retail, creating a distinctly Auckland downtown.
Over the past decade, Queen Street has developed as the spine of an increasingly busy, culturally-rich city centre. Much of the city centre's economic activity (approximately $21.2 billion per annum) is concentrated here and it forms the densest job centre in New Zealand.
Future transport improvements including City Rail Link (CRL) and public realm upgrades will provide many more people with access to the heart of the city centre. Alongside this, due to air quality concerns and Auckland's climate change, we have focussed attention on fossil-fuelled vehicles in the city centre.
As central Auckland evolves, so does the Waihorotiu / Queen Street Valley. This move will strengthen its role as an accessible, attractive economic heart of the city.
Queen Street explained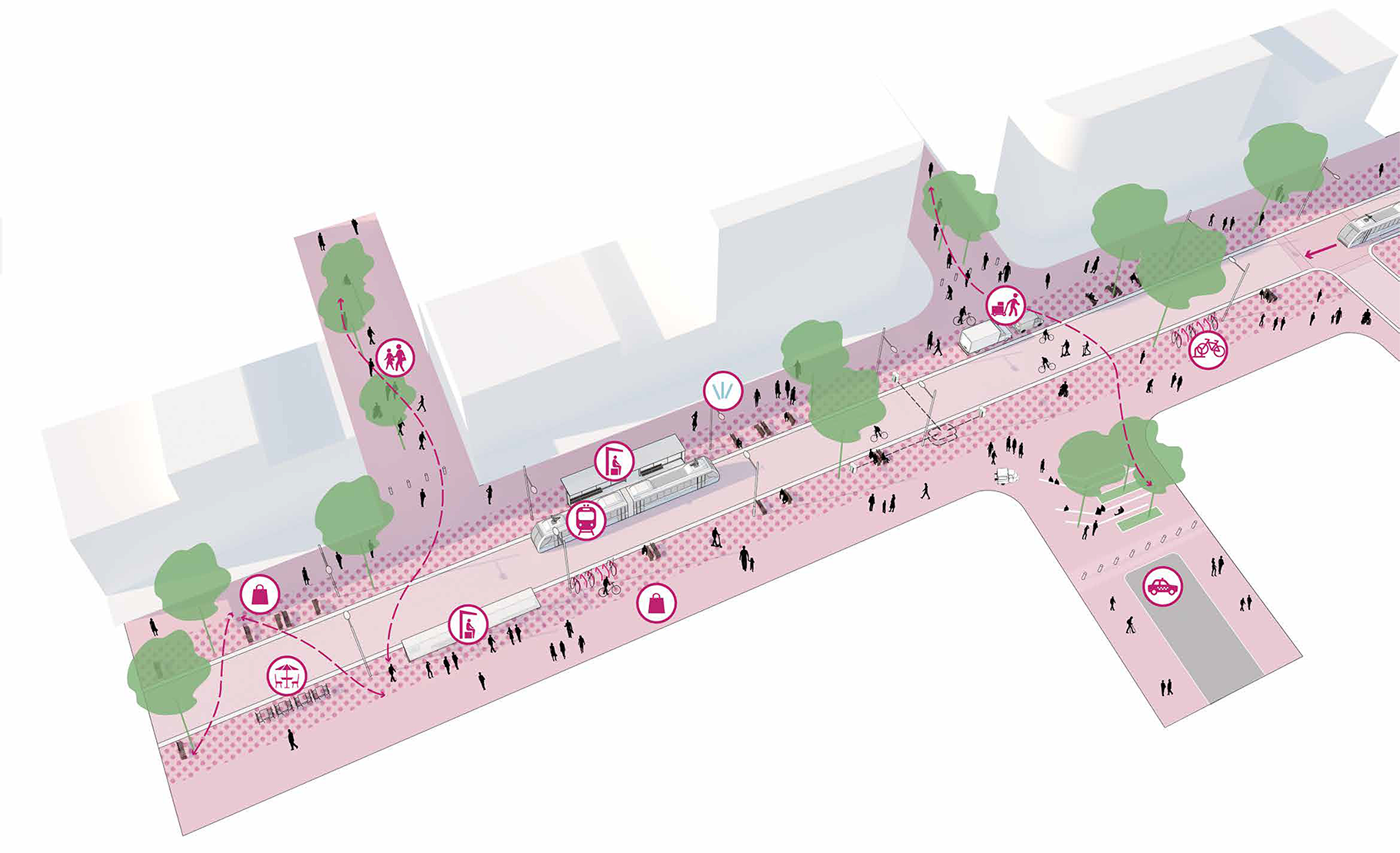 A vibrant pedestrian priority shopping street at the heart of Waihorotiu / Queen Street Valley - Queen Street will support centre-running transit (starting with buses) and become the centrepiece of a greatly expanded pedestrian priority and low emissions zone:
Pedestrian streets,

 

laneways and spaces

are

 

expanded

 and enhanced

 

across the Queen Street

 

Valley.

 

Plentiful bike and scooter

 

parking at transit stops for

 

ease of first/last mile trips.

 

Centre-running light

 

rail service with high

 

capacity, high quality

 

passenger stops at Aotea

 

and Downtown.

 

Enhanced air quality

 

through traffic reduction and

 

restrictions on vehicle type

 

and size.

 

Total mobility users allowed

 

access for 

pick ups

/ drop-off at

 

all times.

 

Overnight delivery and servicing

 

(vehicles restricted by vehicle

 

size and type to transition to zero

 

emission zone).

 

New public space at

 

pedestrianised intersection with

 

secondary side streets.

 

Vehicle turnaround with taxi/

 

ride-share zone prioritised at

 

secondary side streets.

 

Electric Little Frequent

 

Vehicles (ELFs) allowed

 

access for public transport

 

accessibility services and

 

street services such as

 

green waste collection.

 

Centralised underground

 

waste collection chambers

 

to provide greater capacity

 

and reduce frequency of

 

collection truck trips.

 

Cycling and

micro-mobility

 

modes supported through

 

dedicated lanes or reduced

 

traffic, slower speeds, more

 

space and level surface design.

 

Wider pedestrian

 

movement zone to

 

accommodate future

 

growth in walking.

 

People able to move more

 

freely between predictable,

 

steady-moving transit

 

vehicles supporting vibrant

 

two-sided retail street.

 
More information about Waihorotiu / Queen Street Valley
---